COACH OF THE YEAR – T.J. Ziol (pictured above left) is a Level ll Coach working at Pompano Beach Golf Course. T.J. has been a dedicated coach growing The First Tee Program for the past two years. As well as coaching two of our successful Outreach programs with the Joe DiMaggio Children's Hospital and The Crockett Foundation, T.J. always brings a great attitude along with his high-level coaching skills to all of the groups he works with.
VOLUNTEERS OF THE YEAR – Mike Dobzinski and Debbie Macfarlan
Mike Dobzinski (pictured above center) who volunteers for our Veterans Class at Woodlands Country Club as well as our Life Skills class at Eagle Trace Golf Course. Mike has been a volunteer for more than two years. He has great enthusiasm for coaching and he is available all the time to help out. Debbie Macfarlan (pictured above right with students from Grand Palms Resort) has been volunteering now for three years and has a love and passion for coaching that stands over and above. She is always smiling and easily connects with the young people in our program.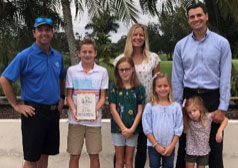 PARTICIPANTS OF THE YEAR – Max, Alexis and Tayler Walkenhorst (pictured right) are three members of the same family from Coach Nick Cupper's program at Weston Hills Country Club. Max, Alexis, and Tayler have been a part of The First Tee program for a year and they truly demonstrated what The First Tee stands for. Every week they come to class with energy, a positive attitude and a willingness to learn that is second to none. It is truly a pleasure to have them in our classes.
These people were chosen for their awards because they demonstrate Chapter leading dedication, enthusiasm and professionalism and have met our Chapter's objectives to be a successful Coach, Volunteer and Participant.
We are lucky to have them. Congratulations Coach T.J., Coach Mike, Coach Debbie and the Walkenhorsts!